Welcome to legal light consulting
Get Legal advice from Experienced Legal Experts @ Rs 199
Our clients are our greatest assets and work hard to meet their expectations. We believe that a strong relationship with every client is fundamental to success.
We're quick, we're focused and we're result oriented. Practice with Purpose and focused on client's object is to emerge as the most valuable service-providing law firm
Divorce by Mutual Consent is the simplest and easiest way of dissolving marriage. Both Parties ie Husband and Wife have to reach a Mutual understanding and agreement regarding the terms and conditions of Divorce. A divorce Petition will be drafted which will include terms of settlement agreed between parties.
On the basis of the settlement and agreement, a petition for Mutual Consent is drafted. Under Hindu Marriages, such a Petition is filed under section 13 B of the Hindu Marriage Act. Under Christian Marriages, section 10 A of the Indian Divorce Act. Under secular or civil marriages, section 28 of the Special Marriage Act.
We stand committed to provide the discipline and comprehensive range of legal support and also to ensure the smooth performance of work.
Best Law Firm, In Delhi NCR*
Prioritizing Needs and Convenience
Constantly Seeking Feedback From Clients For A Better Understanding…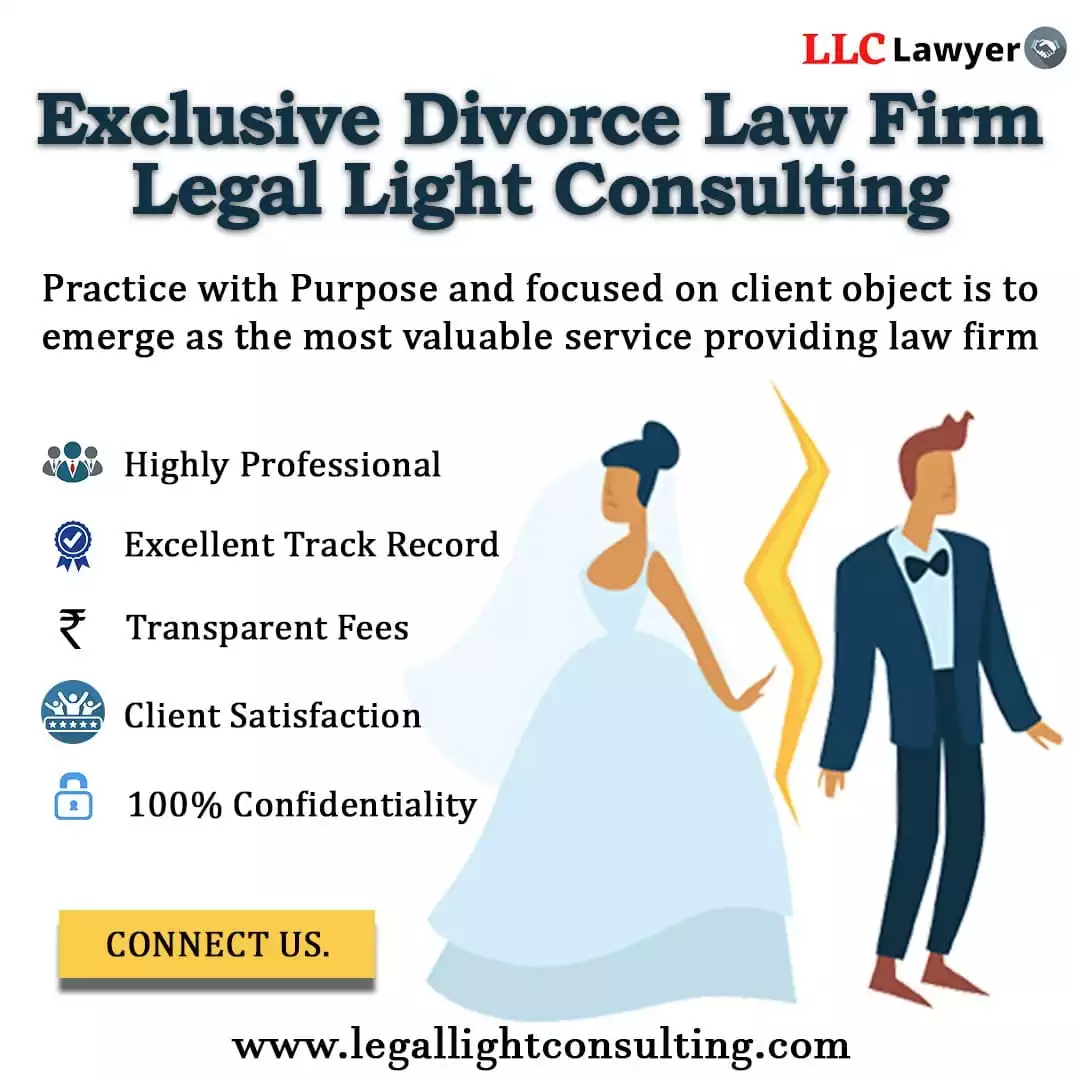 Committed to Helping Our Clients Succeed
Conditions to petition for a Mutual Divorce
According to Section 13B of the Hindu Marriage Act, 1955, the accompanying conditions should be met to petition for a common separation.
Prioritizing Needs and Convenience
Documents Required for Mutual Consent Divorce
dedicated Divorce Lawyers for all family matters
Family Law and Divorce Lawyer
Mutual Divorce through Indian courts while living abroad:
We exclusively platform the NRI clients in regard to any dispute related to a family matter. We at Legal Light Consulting are experts in handling NRI cases pertaining to any family dispute. We are well aware of all the aspects of Indian as well as foreign laws related to marriages.  As of now, we take up mutual divorce cases in the cities of Delhi, Gurugram,
If you and your spouse have finally decided to dissolve the marriage mutually and have also decided on the terms of separation, then you both need to file a case for mutual divorce.
Legal Light Consulting NRI Mutual Divorce in India
LLC Lawyers for NRI Mutual Divorce
You Always Get the Best Guidance
We consist of expert lawyers who hold vast experience in this domain. We work mainly on substantial and complex cases. Our unique, efficient, and adept handling of divorce and annulment cases related to NRI over more than a decade has made us a natural choice for representing NRI divorce cases in India.
We ensure our Clients make an informed decision rather than proceeding in haste. Hence, contact us now. We maintain 100% confidentiality, the entire Mutual divorce process is kept completely confidential. Hence, the litigation is made as smooth as possible.
Legal Light Consulting is one of the fastest and leading growing law firms in India. We provide legal services and solutions for matrimonial and family disputes. We provide information on all the aspects of a family matter and matrimonial cases